Women's Season Preview 2021/22

Catholic Institute Ladies HC
Head Coach: David Passmore
Manager: Brenda Moloney
Assistant Coach: Ger O'Carroll
Players in: Jenny Clein (UCC), Lizzie Ryan (Boston University)
Players out: Lauren Ryan (UCC), Roisin Begley (ACL injury)
Captain: Roisin Upton
Vice Captain: Laura Foley
Ambitions this season: After such a long time without matches it is hard to know where we are at but we will aim to be competitive in every game and push for a place in the playoffs.
Key Players: Home grown Olympians Roisin Upton and Naomi Carroll will again be key players but the spine of the team is bound through the experience of Goalkeeper Pam Smithwick and the calm heads of Christine O'Shea and Ciara Moloney and club stalwart Rosie Pratt.
Rising Stars: Institute have a number of good young players who have featured in pre-season friendlies including Thurles pupil Kate Ryan. However, it's some of those in their early twenties who are pushing the standards including Eimear Ryan and returnee Jenny Clein along with fast developing Laura Foley and Anna Horan.
Comment from David Passmore: It will be great to get back playing competitive hockey after the long lay off. After an exciting start last time out the players are raring to go but post lockdown holidays, injuries (especially Roisin Begley) and availability have resulted in a lack of continuity in the pre-season period. Finding pre-season fixtures has also been problematic so it is hard to gauge where we are at. I have no doubt we will be hard to play against, difficult to beat and will surprise a few teams with our attacking play.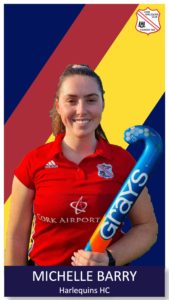 Cork Harlequins HC
Head coach: Edward Gash
Manager: Vanessa Sargent
Players in: Niamh Sexton (Lock Haven University), Ruby Walsh, Katie Moore, Beatrice O Hare (up from the youth section)
Players out: Siri Forde (not playing), Emily O' Leary (moving to Ashton), Isabel Lyons (moving to UCC)
Co-Captains: Yvonne O'Byrne & Michelle Barry
Ambitions this season: Finish in the top 8 of the EYHL. Win the Munster Senior Cup.
Key Player(s): Co-captains Yvonne O'Byrne and Michelle Barry will again be hugely influential this season, providing valuable experience to a young Quins team. Lauren Cripps has impressed with the Irish U19 team this summer and will be an important player in the centre of the Quins defence. Striker Leah O' Shea will no doubt provide one of the main threats up front for Quins, her performances this summer earning her a place on the Irish U23 squad.
Rising Stars: 17 year old Julia McCarthy is one to watch this season in the Quins forward line up. Scoring on her EYHL debut last season, her impressive skill level makes her a real threat in the circle.
Comment from the Head Coach: It's great to get back to hockey matches after enjoying watching the Olympics over the summer. This team is an exciting mix of youth and experience and we are looking forward to getting the league started."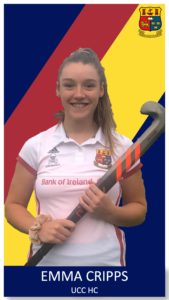 UCC LHC 
UCC Hockey Development Officer: Paidi Hartnett
Head coach: Graham Catchpole
Manager: Colette Coomey
Assistant Coach: Audrey O Flynn
S&C: Patrick Ryan
Players in:  Emma O'Sullivan (Ashton Hockey Club) Lauren Ryan, Sophie Clein, Nicole Griffin (Catholic Institute) Gillian O'Leary ( C of I) Isabel Lyons (Cork Harlequins)
Players out:  Jenny Clein (Catholic Institute), Saoirse Griffin (Study Abroad), Aoife Collins
Captain: Emma Cripps
Vice Captain: Hilary Balding
Ambitions this season: The club's primary target will be to make the playoffs for EY1.  We will also be keen to retain the Munster Senior League title as well as going as far as we can in the cup competitions.
Key Player(s): The more experienced members of the squad will be crucial this season. At the back Emma Cripps will be pivotal in leading the team and driving high standards from everyone.  She will be ably assisted in guiding the team by senior players like Roisin O'Dea and Hilary Balding.  Irish panelist Caoimhe Perdue will be keen to  push on and cement her place in the Senior team this season and will add huge energy across the pitch.  Development panelists Nikki Barry and Sarah Murphy will also be hoping this season sees them break into the wider Irish panel and in the process help UCC gain promotion to EY1.
Rising Stars: Elva Kerr, Hilary Balding and Rebecca Kingston have pushed on massively in the last year and will be hoping continue this progress in the coming season.  We also have a raft of new talent coming into the panel who will be keen to impress in the season ahead.
Comment from the Head Coach: "We are looking forward to the season ahead and will be pushing as hard as possible to make a push for an EY1 place.  The squad have been back in bits a pieces to date so it's going to take a while for us to settle with so many new faces.  It's great to see the competition in the squad and this will drive the standards for the season ahead.  Patrick has been getting the squad up to speed fitness wise and the addition of former senior Irish international Audrey O'Flynn to the coaching team brings another dimension to the squad.  We are really looking forward to getting back to competitive hockey and look forward to some great games this season."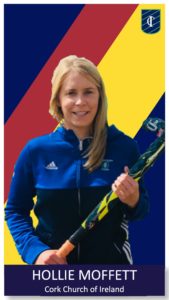 C of I HC
Head coach: Phil Oakley
Manager: Sarah Jones
Players in:  Julie Coyne (returning from Dubai), Henrietta Pienaar (Sligo), Candace Davey (Fermoy), Jess Kingston (Saudi Arabia).
Players out:  Niamh O'Leary (London), Steffi Bowe (Louth), Hannah Kate Finn (Netherlands); Gill O'Leary (UCC)
Captain: Hollie Moffett
Vice Captain: Emma Rumley
Ambitions this season: ​To retain EYHL2 qualification. Strong performances within Munster league and cups. Use Irish senior cup to gauge the current level of the team against EYHL1 teams.
​Key Player(s): Hollie Moffett will captain the team and her experience and ability will anchor the side well. The return of Julie Coyne will bolster the team's defence and the addition of Henrietta Pienaar will add to the team's midfield. Along with experienced players like Nicola Kerr, Alex O'Grady, Emma Barber and Mel Ryan, the team should have a strong spine.
Rising Stars: There are a number of young players coming into the senior sides who have the potential to play in the 1st team. Too early to make predictions. ​
Comment from the Head Coach: "​The short preseason has not been ideal for preparation, but training has been going well and the team is developing. The loss of players due to work and college will have an impact on the side, but we have managed to get some new additions and will also look to develop some younger players into the team over the course of the season. We are hoping to produce some good performances in EYHL2 and push to qualify for next season's competition again."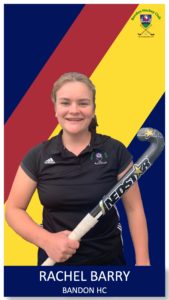 Bandon HC
Head Coach: Ricky Roycroft
Captain: Ingrid Burns
Vice Captain: Olivia Roycroft
Players In: Rachel Desmond
Young Player(s) to watch out for: Jenny McLaughlin – She is a player beyond her years, her eye for the game and quick decision making, will defiantly cause concern for any opposition she will come up against.
Key Player(s): Rachel Barry (GK) Solid and proactive keeper, has great vision of the game, a talent to be watched this season, Grainne Cronin- Her silky skills and pinpoint accuracy in her shot makes he one of our key players to watch.
Season Aspirations: We are looking forward to the new season especially after how the previous season was null in void due to covid. We have a few new players who will add exciting and new types of play to the game, which will be of huge benefit for our team. We hope to dust off the cobwebs and get back to our fighting ways and are a team to contend with at the top.
Coach/Manager Comments: "As the 2020/2021 season gets underway in a somewhat changed world we endeavour to continue as we left off last season. With a blend of hugely talented schoolgirls and experienced players this is going to be an exciting season for all. Welcoming back some old faces will make the places on match day squad very competitive thus driving our highly attended, fun and intense training sessions each week. With Ingrid Burns as Captain and squad members Jenny Mclaughlin, Rachel Barry(Munster U18s) and ever dependable Pam Forde makes the blend of youth and experience a real force to be reckoned with within Munster this season."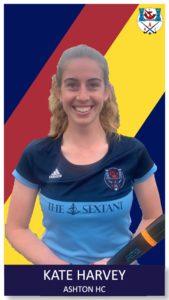 Ashton HC
Head Coach: Darren Wilkinson
Manager: Aoife Murphy
Players in: Emily O'Leary (Harlequins), Emma Nagle (UCC), Louise Mills (Blackrock)
Players out: Emily-Alice Daly, Emma O'Sullivan (UCC), Heather McNamara (Trinity), Tracey Johnston
Captain: Kate Harvey
Vice Captain: Orlaith Nation
Ambitions this season: We are aiming to finish at the top end of the league table and to pick up some silverware this season.
Key Player(s): Kate Harvey will be key to Ashton's attacking play this season. She will be a constant threat, either scoring goals herself or setting up others. Cliodhna Murphy and Judy Mills will be crucial at the back with their excellent positioning and solid tackling. Isabel Janssen Cahill will be looking to have another big season between the posts.
Rising Stars: Alex Kenny, Elizabeth Tuohy and Jill Roberts, who all represented Munster in recent U20 Interpro matches, will be looking to set the tempo and make an impact. Robyn Murphy will also bring her speed and ball control to the midfield line.
Comment from the Head Coach: After the season had to be cancelled last year, we are really looking forward to getting back on the pitch. The squad consists of a good mix of youth and experience and there has once again been a huge amount of competition for places on the panel. The squad showed glimpses of what they're capable of in the few matches that we managed to play last season and so I'm excited to see what this group of players can achieve this season.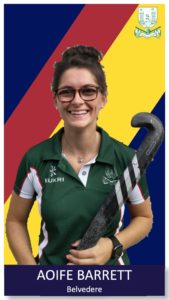 Belvedere HC
Head coach: Eddie Kirwan (Third year)
Assistant coach: Sarah Jane Rickey
Players in: None
Players out: None
Captain: Julie Cronin
Vice-captain: Cliona Barrett
Ambitions: To win any of the Cup competitions we have entered and to perform consistently and positively for the duration of the league.
Rising stars: The club has laid the foundation over a number of years with the development of a lot of young players who will be starting their Senior hockey career. It is an exciting few years for the club to see how these young players progress.
Head coach comments: "Very keen that we would be able to complete the season this term.  Looking forward to seeing Belvedere Senior ladies take on the best players and teams in Munster with a competitive yet enjoyable attitude and approach."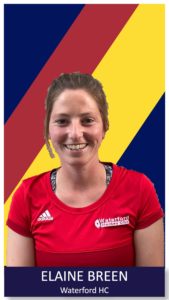 Waterford Ladies HC
Head Coach: David Quinn
Manager: Jonathan Earl
Assistant Coach: Elaine Breen
Players In: Victoria Moretti, Sue Ryan, Millie Pim, Alison Moore, Sarah O'Donovan.
Players Out: Rachel Shute, Sarah McDaid, Lindsey McGuire, Ruth Breen.
Captain: Elaine Breen
Vice Captain: Alison Moore
Aspirations this season: Like the last number of years we have had a few key departures from the club as our young members leave for University. We will strive to put in good performances week in week and look to secure a top half finish in the Munster League and to go as far as we can in the cups.
Key Player(s): Elaine Breen will be key to Waterford's attacking and defensive play this season with her ability to break from deep but also control the middle of the pitch. Barbara Johnson will bring her experience and organisational skill into play in a young forward line. Katie Leslie will bring attacking pace and ability to beat players one on one and has an eye for goal. The return of Sue Ryan is also a welcome addition to the back line – she will bring work rate and experience.
Rising Stars: Kaite Earl, Zara Notley, Rosin McGrath all underage provincial players will add to the young and upcoming players within the Waterford camp. In addition Orla Treacy, Grace O'Brien, Mia Johnston Laura Belton, Millie Pim, Julitet Evans and Melanie Jephson bring strength in experience and skill set to further bolster the squad.
Coach/Manager Comments: "We are really looking forward to this season with what must be one of the most youthful panels in Munster Div 1. The club is in a good place with regards to young talent coming through, with many on the u18 and u16 Munster/South Leinster squads at present. We aim to consolidate this year safely in the knowledge that our underage system will see the club get stronger again in the years to come. Hope to go on a good cup run in the IHT, MSC."
Limerick HC
Head coach: George Blackwell
Players in: Aine Bagnall (unattached), Nerina Audano (Argentina), Laura Hurley (NUIG), Ella Sorensen (unattached)
Players out: Amy O'Leary (abroad), Anna McGoey (UCC)
Captain: Eimear Flanagan
Ambitions this season: To continue on the progress the team started to show at the start of the 20/21 season before Covid restrictions stopped everything.
Key Player(s): Ellie Moloney in defence, Eimear Flanagan and Rebecca Conway in midfield and Jennifer Duffy upfront are all only 18 or 19 years old but they all have key roles in the team.
Rising Stars: Emer Conroy, Giselle Keogh and Lauren Slater have come up from our U16 team straight into the 1st team squad and have been excellent in training so far.
Comment from the Head Coach: "We have a very young squad so we are lacking some experience starting out but hopefully we will be competitive and develop as a group over the season. We are realistic enough to know that getting results off the top teams would be a very big ask so the performance in these games is more important but we believe we can get some points off some of the other teams."
https://munsterhockey.ie/wp-content/uploads/2021/09/Slide1.jpg
720
1280
Sportlomo
https://munsterhockey.ie/wp-content/uploads/2020/02/logo.png
Sportlomo
2021-09-09 09:41:45
2021-09-09 09:42:41
Women's Season Preview 2021/22