Men's Season Preview 2021/22

Cork C of I
Head coach: Jonny Bruton
Manager: Les Ruddock
Assistant Coach: David Harvey
Players in: Johnny Spillane (Midleton) Rory Treacy (Waterford), Neil Pelow (Corinthians)
Players out: David Lynch, Mark Horgan (Ashton)
Captain: Simon Wolfe
Vice Captain: Phil Byrne
Ambitions this season: IHL 1 Promotion
Key Player(s): The full 24 man squad. Every player is key to our season to drive standards and achieve success.
Rising Stars: Harry Jackson, Cian Dorgan, Rory Treacy, Mark Collins and Jonny Spillane.
Comment from the Head Coach: "Looking forward to being back on the pitch after a year out. Preseason has gone well and we are blessed to have plenty of depth in the squad with a group of 24. Our primary focus for the season is promotion to EYHL 1."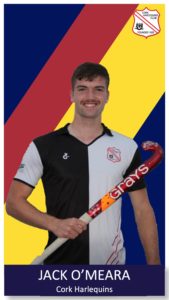 Cork Harlequins
Head coach:  Stephen Dale
Manager:  Kay Gaffney
Players in: Alvaro Estevan (Valencia)
Players out: Mark Black (injury), Jason Black (coaching)
Captain: Jack O'Meara
Vice Captain: Ross Bailey
Ambitions this season: To push hard for honours in MSL and MSC and to qualify for the finals weekend of EYHL2.
Key Player(s): Harlequins has a strong showing at both Munster U18 & U16 Level with key stars Sam Dale, Jamie Venner and James Young breaking through into the first team squad this year.  They will play pivotal roles at various times throughout the season.  Jack O'Meara has been training with the Irish Senior Men this summer and will be a strong leader, supported by Ross Bailey who has been partaking in regional sessions this summer.  He was joined at these regional sessions by both Sam and Jamie, showing great promise for the future of the club.  The squad has a good mixture of youth such as John Whyte and Andrew Dale as well as experience from John Hobbs and Dave Egner who will steady the ship.
Rising Stars: Jamie Venner will be the one to watch as he commands a presence of a player twice his age.  The youngest of the Dale dynasty, Sam Dale is sure to shine with his explosive pace, it will leave many defenders blinking twice.
Comment from the Head Coach: "We are now seeing the rewards of the great work done over the last 10 years in our underage academy with our representatives on Munster U18 teams and by incorporating these players into our first team squad. Last season's squad is a year older , a little stronger and hopefully much wiser.. There is a nice balance between young and not so young, but all still have a desire to succeed and push for silverware, hopefully playing some decent attacking hockey along the way."
Bandon
Head Coach: Denis Pritchard
Assistant Coach: Mark Deane
Players in: Fionn O'Leary (Pembroke Wanderers)
Players out: Iarlaith O'Neill (Holland)
Captain: Fionn O'Leary
Vice-Captain: TBC
Ambitions this season: The minimum goal is to secure EYHL 2 status for next season. The target is to reach the finals weekend and push for promotion to EYHL 1. We are also looking to mount a serious challenge in all regional competitions this year.
Key Player(s): Dave Smith continues to prove that age really is just a number. He has been really consistent during preseason and will certainly have benefitted from his recent international experience. Ross Smyth and Eoin Nyhan are continuing their development and have looked really sharp since we started back. There is a great mix of youth and experience in the squad this year.
Rising Stars: Ian Perrott, Karl Smyth and Ethan Hamilton-Foott all have some great experience, even at a young age. They will play important roles in the team this year and they are capable of making big contributions.
Comment from the Head Coach: "This season appears that it will be a close contest with many teams in a re-building or stabilising phase.  There was some uncertainty that performance levels may have dropped due to lack of continuous competition but on the evidence of preseason, levels have been maintained or improved. The players have been very proactive and organised in preseason and the performance levels at games and training is extremely encouraging that our goals for the season are realistic. Our minimum aim is to maintain our current EYHL2 status. We also aspire to win our local competitions and to challenge for promotion to EYHL 1."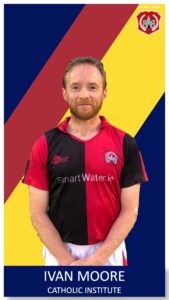 Catholic Institute
Head coach: Ollie O'Connor
Manager: Gary O'Connor
Players in: Daniel Potts (Limerick HC)
Players out: N/A
Captain: Ivan Moore
Vice Captain: Gary O'Connor
Ambitions this season: After a season of starts and stops, we are looking forward to a good run in all competitions, both in Munster and in Irish hockey competitions. We are expecting tough competition given the drop outs from the Division but have had a great run in of training sessions over the last few weeks, with coach Ollie O'Connor.
Our main goal this season is to play with confidence and execute our game plan, and hoping the goals will follow. We are targeting a result in home games in Rosbrien along with exposing the younger members of the squad to lots of Div.1 hockey over the course of the season.
Key Player(s): Ed Gleeson (Sweeper / CB),  Nick Lampp (Midfield) & Christopher Ryan (Forward)
Rising Stars: Tiarnan Gaffney (Forward), Bryan Smyth (Midfield) & Jack Stockil (Defence)
Comment from the Head Coach: "From a personal point of view, it has been great being back with my club surrounded by friends and family. It is just great to get out to train and play matches – and we hope to complete the season. Silverware is every club's ambition at the start of the season – we have a great bunch of players – both young and experienced – dreamland would be to qualify for one of the EYHL places. We will prepare for every game as if it's our last and see where that takes us. The players have worked very hard in preseason and can't wait to get going."
UCC
Head coach: Gareth Watkins
Players in: John Deane, Adam Beamish (Midleton), Ben West (Doncaster HC) , Ronan Kingsbury (Watstonians HC)
Players out: Simon Dring (n/a), Stephen Jermyn, Steven Scanlan, Reece Hawtrey (Ashton),
Ambitions this season: Challenge for an EY2 spot.
Key Player(s): Evin McClure and James Feely will be looking to make the most of their, now, more senior positions as the Kilkenny midfield partnership come into their third year at the club. Tristan Walsh, Jack Marlborough and Conor Beck are expected to lead from the back in their last year with the college.
Rising Stars:  Second year Conor McCormack will be looking to build on his impressive, yet, short lived start with the club last year.
Comment from the Head Coach:  "We are looking forward to getting back to league hockey this year. After the long break the focus in preseason has been about getting the team back together and introducing new faces. With a lot of senior players in their last year we want to make the most of the season ahead and if we play to our potential we believe we can push for a top 3 finish."
Ashton
Head coach: Andrew Scannell
Manager: Malcolm Coombes
Players in: Mark Horgan (Cork C.of.I), Craig O'Byrne (U.C.C.), Calvin Casey (New Zealand), Nigel Bateman (Canada)
Players out: None
Captain: Darren Wilkinson
Vice Captain: Stuart O'Grady & Steven Scanlon
Ambitions: Looking to improve our league position and have a good cup run. With a home draw in the Irish Hockey Trophy to try and progress as far in that as we can.
Key players: Darren Wilkinson, David Mills, Stuart O Grady
Rising stars: Billy Mulcahy, Clyde Buttimer
Comments from coach: "With this being my first year in the job and with no hockey for almost a year I'm very excited to get back to normality and work with this group. I'm looking forward to integrating our new arrivals with the group from last year, to see if we can rise up the league table and have a good cup run. With the work we have put in during pre season we feel we are ready for the new season ahead."
https://munsterhockey.ie/wp-content/uploads/2021/09/Slide2.jpg
720
1280
Sportlomo
https://munsterhockey.ie/wp-content/uploads/2020/02/logo.png
Sportlomo
2021-09-09 09:41:05
2021-09-09 09:41:05
Men's Season Preview 2021/22