Women's Season Preview 20/21
The new women's season pushes back on Saturday the 19th of September with the resumption of the Munster Senior League.  Since the 19/20 season was cut short there has been quite a lot of movement of players which looks like making the Munster Senior League stronger and more competitive than ever.
In EY 1 Cork Harlequins and Catholic Institute have to wait another week to start their campaigns with Irish cup finals taking centre stage this weekend.  Cork Harlequins have seen 7 players exit with 2 coming through the gates but with a strong crop of youngsters coming through they should be able to manage this turnover.  The team will again be led by World Cup Silver Medalist Yvonne O'Byrne and experienced defender Cliodhna Sargent.  Irish underage panelist Michelle Barry continues her development as she is named vice-captain – she will be key at the attacking end of the pitch.  Quin's first game is away to Muckross and this could be a good barometer for what half of the table they are likely to feature at this season.  Catholic Institute on the other hand have recruited well with 8 joining the panel, half of these from UCC.  David Passmore's side probably lacked the strength in depth last season but this seems to have been rectified now.  Roisin Upton remains the linchpin in the side and provides the ammunition from corners.  Laura Foley's sharpness up front with Naomi Carroll will also be a key feature this season for goals from play.  Irish underage keeper Hannah Humphrey's move means Institute now have a strong panel of goalkeepers  – her agility between the posts means Insitute are going to be even tougher to score on this season.  Institute's first game is at home to UCD who will be sharp having played an ISC final the week before.
The Munster Senior League has never looked so competitive as it does this season.  Champions UCC have had a big turnover of players in and out of the club over the off season.  The addition of Irish underage players Nikki Barry, Sarah Murphy and Laurna McHugh will bolster a squad with potential to push for an EY1 spot.  C of I have possibly recruited the best in the offseason with ex-players Emma Barber, Alex O'Grady and Becky Maye returning after playing with Harlequins for a few seasons.  Niamh O'Leary also joins bolstering a very strong midfield that already contains Hollie Moffett and Nicola Kerr.  Ashton and Bandon meanwhile have more settled squads with a couple of key additions from their strong youth sections.
Cork Harlequins Hockey Club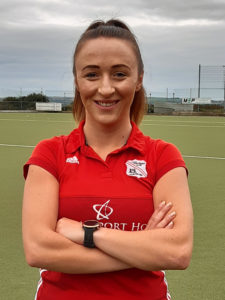 Cork Harlequin's will yet again be fighting for a top 4 finish in EY Division 1 this season after last season was cut short.
Position Last Season: EYHL Season null and void
Coach: Darren Collins (3rd year)
Manager: Vanessa Sargent (1st year)
Captain: Yvonne O'Byrne
Vice Captain: Michelle Barry
Players In: Siri Forde (from Church of Ireland), Niamh Sexton (back from America)
Players Out: Emma Barber (Church of Ireland), Niamh O'Leary (Church of Ireland), Becky Maye (Church of Ireland), Alex O'Grady (Church of Ireland), Nikki Barry (UCC), Sarah Murphy (UCC), Enya O'Donoghue (UCC).
Young Players to watch out for: Lauren Cripps, Leah O'Shea.
Key Players: Cliodhna Sargent, Yvonne O'Byrne, Michelle Barry.
Season Aspirations: We are looking forward to competing in the EYHL 1 league for another season after last year finished so abruptly. We have lost some very good players but have some promising younger players coming through and allied with our core of experienced players we hope to have a successful season.
Catholic Institute Hockey Club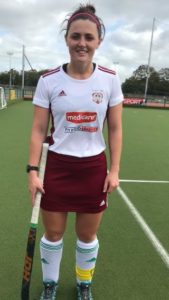 A strong Summer of recruitment with more strength in depth puts Catholic Institute in a good position for the season ahead.
Position Last Season: EYHL Season null and void
Coach: David Passmore (2nd Year)
Assistant: Ger O'Carroll
Manager: Brenda Moloney
Captain: Roisin Upton
Vice Captain: Laura Foley
Players In: Michelle Barrett (returning from UMass), Aebhfhinn Bourke (UCC), Hannah Humphries (UCC), Aine Ryan (Trinity), Lauren Ryan (UCC), Muireann Scanlon (UCC), Pam Smithwck (Old Alex) Kate Ryan (Crescent HC)
Players Out: Anna Horan (UConn, USA), Sophie Clein (exams), Nicole Griffin (exams), Jilly Edwards (exams)
Young Players to watch out for: U16 internationals Sarah Fitzgerald and Kate Ryan have fitted in well at training along with U19 triallist Becky Foley who has returned after an extended break with an ACL injury.
Key Players:  The spine of the team will be key led by last year's captain and sweeper Christine O'Shea and this year's skipper Roisin Upton who brought an attacking threat to the team in the second half of last season after she return from the wrist injury sustained in the Olympic Qualifiers.
Season Aspirations: The addition of four players from UCC, three returning to the club will add strength and depth which was lacking last year.  After struggling to cope with the intensity of the league in the early part of the season last time out we are hoping that the form shown post Christmas can allow us to consolidate our EYHL1 status

Coach Comments: "It has been great to have a larger squad to prepare with more intensity over the summer and fitness levels are improved on last time around which should allow us to be competitive.  There is a great buzz around training and the players are looking forward to the season ahead" 
University College Cork Hockey Club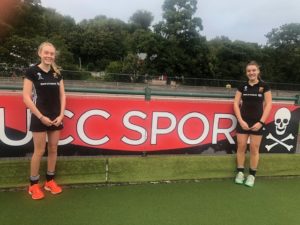 A significant turnover of players this season but no doubt they will be challenging to retain the MSL title.
Position Last Season: 1st
Coach: Graham Catchpole (2nd year)
Manager: Colette Coomey (3rd year)
Hockey Development Officer: Paidi Hartnett
Captain: Emma Cripps
Vice Captain: Hilary Balding
Players In: Laurna McHugh, Abi O'Mahony (Cork Church Of Ireland), Nikki Barry, Sarah Murphy, Enya O'Donoghue, Jane Murphy (Cork Harlequins)
Players Out: Saoirse O'Leary (Old Alex), Judy Mills (Ashton HC), Aebfhinn Bourke (Catholic Institute), Lauran Ryan, Muireann Scanlon (Catholic Institute), Hannah Humphreys (Catholic Institute), Aoibhinn Martin (abroad)
Young Players to watch out for: There has been a large influx of new talent to the panel this season.  Nikki Barry joins as a Quercus scholar this year and will add her impressive skillset to the group.  Sarah Murphy has impressed greatly since joining and her versatility, distribution and calmness in possession will be a big feature this season.  Her sister Jane and Abi O'Mahony have shown their attacking prowess in preseason while the addition of Laurna McHugh between the posts is a huge boost to the panel.
Key Players: Emma Cripps, Jenny Clein and Aoife Collins continue in the spine of the team this season and are hugely important to the team from a defensive and attacking standpoint.  Emma reads the game well and is incredibly hard to beat in a one on one.  Jenny's trickery and directness in attack makes her a threat wherever she picks up the ball on the pitch.  Aoife is a proven goalscorer and has shown it in preseason already with a handful of goals.  We are also seeing the emergence of a number of other leaders in the team in Hilary Balding and Roisin O'Dea.
Season Aspirations: We expect the Munster League to be very competitive this year with the top teams strengthening their squads.  Our goal is to retain the title and go one further in EY2 and qualify for the playoffs.  We have Monkstown in the first round of the ISC also and are looking forward to another close match up with them.
Coach Comments: "There has been a large turnover of players this season with 6 players coming in and 7 players exiting.  It will take some time for these players to settle into a new team and a very different college experience.  The players have been looking sharp in preseason with S&C coach Patrick Ryan putting them through their paces along with some good competitive friendly matches to get us up to speed.  We are looking forward to the start of what looks like being a very competitive Munster Senior League and are hoping to again make an impact in EY2."
Cork Church of Ireland Hockey Club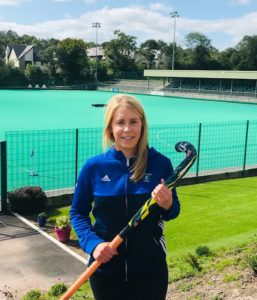 Strong recruitment may give C of I the edge this season domestically and in EY2.
Position Last Season: 2nd
Coach: Phil Oakley (first season)
Manager: Sarah Jones (second season)
Captain: Hollie Moffett
Players In: Niamh O'Leary (Harlequins), Alex O'Grady (Harlequins), Emma Barber (Harlequins), Becky Maye (Harlequins), Pamela Wolfe (UCD).
Players Out: Kate Burke, Orla Crowley, Claire Hickey (retiring), Laurna McHugh, (UCC), Abi O'Mahony (UCC).
Young Players to watch out for:  Hannah Kate Finn – Exciting talent from Kinsale. Started her career with Kinsale HC and attends Bandon Grammar. Irish U18 last year. Versatile player – plays in midfield and up front.
Gill O'Leary – Strong defender and midfield player from Regina Mundi. Broke into the squad last year and has continued to improve into this season.
Key Players: Emma Barber – Significant experience having played EYHL1 with both UCC and Cork Harlequins in recent years. Her distribution on the ball coupled with her defensive skills will add hugely to the team. Also a threat from penalty corners.  Hollie Moffett – Former Irish international with a wealth of experience. Her passing range and skills on the ball will provide the team with a strong anchor in midfield.
Season Aspirations: ​Improved performances in both EYHL2 and Munster league. We have entered Irish Senior Cup to assess where the team is in relation to EYHL1 teams.
Coach Comments: "We are really looking forward to the season and delighted to have fresh faces in the squad, which will create competition for places. We have a good mix of youth and experience within the group and we will hopefully improve on our performances from last year at both provincial and national level."
Ashton Hockey Club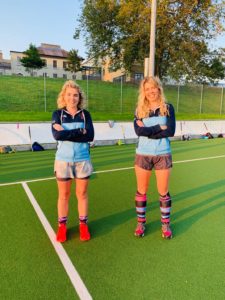 A settled panel with some key additions from a strong youth academy.
Position Last Season: 3rd
Coach: Darren Wilkinson (2nd Season)
Manager: Mary-Claire Cummins (3rd Season)
Captain: Ailse Holland
Vice Captain: Shauna Fagan
Players In: Judy Mills (UCC), Laura Lynch (UCC), Rebecca Allen (UCC)
Players Out: None
Young Players to watch out for: A product of the club's youth section, Ireland U16 midfielder Robyn Murphy will be looking to make an impact in her first season with the Div 1 squad. Robyn, along with fellow Munster U18 players, Elizabeth Tuohy and Heather McNamara, are definitely ones to watch.
Key Players: Kate Harvey has been an important player for us and will be looking to have a positive influence on the team's performances again this season. Tracey Johnston finished last season as the team's top goalscorer and will be hoping to add to her tally this year. Isabel Janssen Cahill has been in excellent form between the posts for the past few seasons and will be a crucial player for us once again.
Season Aspirations: We are aiming to finish at the top end of the league table and to pick up some silverware this season.
Coach Comments: "With new players and young players joining the squad, to add to the quality of the players remaining from last season, it should be an extremely positive and exciting season. There has been a huge amount of competition for positions on the squad this year which shows the club is in a very strong position. I look forward to building on all the hard work that was put in last season and helping this group of players reach their potential."
Bandon Hockey Club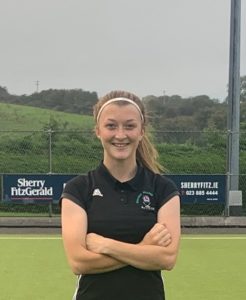 A strong blend of youth and experience capable of beating any side on their day.
Position Last Season: 4th
Coach: Ashley Smyth (3rd Year)
Captain: Ingrid Burns
Vice Captain: Olivia Roycroft
Players In: Lily Carey (from Waterford), Aoife Roche (from UCD)
Players Out: Rachel Desmond (Studying abroad). Marla Diltzer (Germany)
Young Players to watch out for: Sophie Brady- Newest member to the women's team, her solid defending and great link up play makes her the up and coming talent for the season. Jenny McLaughlin – She is a player beyond her years, her eye for the game and quick decision making, will defiantly cause concern for any opposition she will come up against.
Key Players: Rachel Barry (GK) Solid and proactive keeper, has great vision of the game, a talent to be watched this season, Olivia Roycroft – With Pinpoint accuracy and an eye for the goal it isn't a surprise that she was top goal scorer last season and will be a big game player for this season to come. Aisling Moloney- Her silky skills and ever creative attacking nature makes her the deflection master which results in no far post being safe – goalkeepers watch out, Aisling will undoubtedly be a key player to watch for the season.
Season Aspirations: We are looking forward to the new season especially after how the previous season was cut short. We have a few new players who will add exciting and new types of play to the game, which will be of huge benefit for our team. This is our 3rd season with Ashley Smyth as coach and we will be striving to get into the EYHL 2 as well as competing for the top spot in the league.
Coach/Manager Comments: As the 2020/2021 season gets underway in a somewhat changed world we endeavour to continue as we left off last season. Having won the Examiner Cup, got to the final of the Munster Senior Cup and finishing 4th in an unfinished league, we hope to compete for the league title and strive to get into EYHL2. With a blend of hugely talented schoolgirls and experienced players this is going to be an exciting season for all. Welcoming back some old faces will make the places on match day squad very competitive thus driving our highly attended, fun and intense training sessions each week. With Ingrid Burns as Captain and squad members Amy Smyth, Rachel Barry(Munster U18s) Olivia Roycroft and ever dependable Pam Forde makes the blend of youth & ample experience a real force to be reckoned with within Munster this season.
Belvedere Hockey Club
A settled side that will cause a few upsets this season.
Coach: Eddie Kirwan (2nd Year)
Captain: Julie Cronin
Players In: None
Players Out: None
Young player to watch out for: Leah Hayes is one to watch for the future. The Munster U-16 representative is really talented and wants to test herself against the top players this year.
Season Aspirations: To improve on last year's performances. To reach a cup final. To develop the very good young players who will play up this year.
Waterford Hockey Club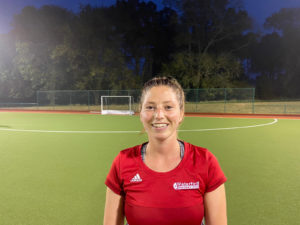 A number of exits but some young potential coming through.
Coach: David Quinn
Assistant Coach: Jonathan Earl
Captain: Elaine Breen
Vice Captain: Rachel Shute
Players In:  Aine Buggy (Kilkenny HC)
Players Out: Lily Carey (Bandon HC), Caoimhe Whelan(Uni), Anna Rafter (Uni) Deirdre Cotter (Uni), Kirsten Browne (Uni).
Young Players to watch out for: Katie Earl, Katie Leslie, Zara Notley, Grace O'Brien, Mia Jonston.
Key Players: Elaine Breen, Rachel Shute Mary Rose, Ruth Breen and Barbara Johnson.
Season Aspirations: Top half of Munster League and a cup run.
Coach/Manager Comments: "We are looking forward to the season and are hoping to develop this young side for the future."
Limerick Hockey Club
No response.
https://munsterhockey.ie/wp-content/uploads/2020/09/Slide1.jpg
720
1280
Sportlomo
https://munsterhockey.ie/wp-content/uploads/2020/02/logo.png
Sportlomo
2020-09-18 21:51:11
2020-09-18 21:51:11
Women's Season Preview 20/21