Catholic Institute Ladies Hockey Club
Catholic Institute women are now the last remaining team from Munster in Ireland's premier league.  The loss of head coach Dave Passmore to the US women will no doubt mean a period of adjustment but the bulk of the squad has remained intact for the 2022/23 season.  This stability should help new head coach and former Irish international Eimear Cregan as she looks to hit the ground running this season.  She will be hoping 'Insta' start the season like last year to keep them in contention at the business end of the season.  The squad can also look forward to European competition later in the year as winners of last year's Irish Senior Cup.  They will of course again be looking to their Irish Internationals and leaders Roisin Upton and Naomi Carroll.  That is not to take away from what is a very established and talented squad with a number of Munster U18 players no doubt vying for pitch time also.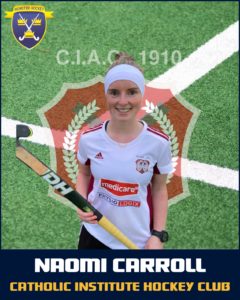 Head Coach: Eimear Cregan
Manager: Brenda Moloney
Assistant Coach: Ger O'Carroll
Players in: Becky Anderson (NUIG), Lauren Ryan (UCC)
Players out: Hannah Kelly (NUIG) , Aebhfhinn Bourke (Dublin)
Captain: Roisin Upton
Vice Captain: Laura Foley
Ambitions this season: Our aim is to push on from the success of last season by retaining the Irish Senior Cup and reaching the playoff stages of the EYHL. We will aim to be competitive in every game and are looking forward to representing Ireland in the club Europeans.
Key Players: Home grown Olympians & World Cup players Roisin Upton and Naomi Carroll will again be key players but the spine of the team is bound through the experience of Goalkeeper Pam Smithwick as well as long standing club members Michelle Barrett, Eimear Ryan, Christine O'Shea and Ciara Moloney. World Cup U20 team member & Irish Development player Anna Horan has also a wealth of experience in club hockey with Catholic Institute.
Rising Stars: Institute have a number of good young players who have featured in pre-season friendlies including former Crescent school & Munster U18 player Aoibheann Collins.
Eimear Cregan:
"I am excited & looking forward to coaching in Catholic Institute this year. The group have shown a strong desire to back up the success of last season through hard work and grit. I have no doubt we will be hard to play against once again this year, we will be aiming to retain the Irish Senior Cup & are looking forward to the new challenge of representing the club in Europe."
Cork Harlequins
After a tough season last year, Harlequins will be looking to re-establish themselves this year at the top of the Munster League.  While they have lost a lot of their up and coming stars to UCC, they have also managed to attract back some top talent in Emma Cripps and Aoibheann Martin.  With a number of the squad involved in the Munster U18 side, they will no doubt welcome the on the pitch guidance of their coach Yvonne O'Byrne.  Getting back to EY1 will be the ultimate goal this year but they will no doubt be pushed all the way.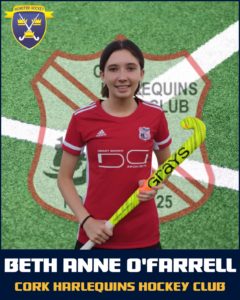 Head coach: Edward Gash
Manager: Vanessa Sargent
Assistant Coaches: Harry O'Byrne, Cliodhna Sargent
Players in: Aoibheann Martin, Emma Cripps (UCC)
Players out: Lauren Cripps, Isobel Kingston, Amy O'Shea, Lorna Bateman, Leah O'Shea
Co-Captains: Michelle Barry, Niamh Sexton
Ambitions this season: Continue to build on the good work done last season and go well in all Munster competitions and the EYHL2.
Key Player(s): Julia McCarthy returns to full fitness after an injury curtailed season last year and will be an important attacking presence this season.  She will be joined by former Quins underage star Aoibheann Martin in attack, while Emma Cripps will look to take her sister's place at the back.
Rising Stars: Rachel O'Shea was the young player of the year 21/22 and will feature in midfield and in attack.  Aine Power has been showing great form preseason and with the Munster U18 side.
Edward Gash:
"Really looking forward to the season ahead; last year was a challenging one in EYHL1, but the experience and knowledge gained should stand to the players this year."
UCC LHC
A Summer much like any other for college with plenty going out the door, but also plenty of talent coming in.  David Hobbs takes over at the helm moving over from the men's club and will be ably assisted by the experience Paidi Hartnett and manager Colette Coomey.  A new backline will be the first order of play and the addition of Lauren Cripps will help fill the void left by her sister Emma.  Current Irish International Caoimhe Perdue will be the driving force in the group after an incredible Summer with the Irish team.  The new Irish centre mid will be looking for fellow Irish youth internationals Nikki Barry and the returning Sarah Murphy to provide the firepower for college as they look to retain the Munster Senior League.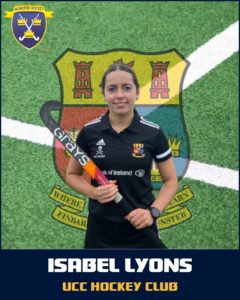 Head coach: David Hobbs
Manager: Colette Coomey
Assistant Coach: Paidi Hartnett (Sports Development Officer)
Other: Patrick Ryan (Strength and Conditioning Coach)
Players in: Saoirse Griffin (back from studying abroad), Lauren Cripps, Isobel Kingston, Suzi Uniacke-Lowe, Joy O'Kelly  (Cork Harlequins) Isabel Janssen Cahill, Alex Kenny, Elizabeth Tuohy, Jill Roberts (Ashton) Micaela Sanderson (Kilkenny Hockey Club), Anna Collins (UCC)
Players out:  Emma Cripps (Harlequins), Lauren Ryan(Catholic Institute), Christina Dring (C of I), Roisin O'Dea (Abroad), Hilary Balding (Abroad), Aoibhinn Martin (Harlequins)
Ambitions this season: Win the Munster Senior League, Munster Senior Cup with promotion to EY1
Key Player(s): With a young squad the eldest being 22, we will be looking at the more experienced players like Caoimhe Perdue, Rebecca Kingston, Laurna McHugh, Jane Murphy, Elva Kerr, Enya O'Donoghue, Abi O'Mahony and Saoirse Griffin, to settle the incoming freshers and bring a lot a skill and energy to our squad from top clubs around Munster and Leinster.
Rising Stars: Lauren Cripps joins Nikki Barry and Caoimhe Perdue as Quercus Sports Scholars. Jane Murphy has brought another level to preseason , with Emma O'Sullivan excelling along with Isobel Lyons. We are exited to see what all the freshers will bring to the team this coming season. Micaela Sanderson joins the squad as an exciting new talent from Kilkenny adding further skill and pace to the squad.
David Hobbs: 
"We are very excited about the season ahead, we have a very young group, bringing a lot of talent and competition to the squad. Preseason is going very well. As with all college sides, exam results and CAO offers being out so late is not ideal but thankfully all are happy."
C of I Women
After pushing UCC all the way last year, C of I will be looking to go one further this season in Munster and EY2.  The return of Christina Dring is a huge coup and add to Phil Oakley's already impressive attacking line.  The loss of Emma Barber and Mel Ryan at the back will however mean a bit of a reorg in the team.  The experience of the likes of Hollie Moffett and Nicola Kerr in midfield will provide good cover here and also going forward.
Head coach: Phil Oakley
Players in: Christina Dring (UCC)
Players out: Emma Barber (Dubai); Emma Rumley (New Zealand); Mel Ryan, Claire Bergin; Anna Collins (UCC)
Ambitions this season: Looking to rebuild a team that was competitive last season with some returning and some younger players, while anchoring the team with more experienced players. We have lost some key players between retirements and players leaving the club, so there should be some new faces in the team as we look to develop the squad further.  A solid league campaign and try to put a run together in one of the domestic cup competitions.
Key Player(s): Hannah Honner – A player with a huge amount of pace in both midfield and up front, she will continue to be a key player in the team, as she has been for some time.
Nicola Kerr – a permanent fixture in the CI midfield, Nicola's experience, alongside the likes of Hollie Moffett, will be important in driving the team forward.
Rising Stars: Isabelle Martin – broke into the first team last year and enjoyed an excellent first season, scoring some important goals. She is also in the Munster U18 squad.
Phil Oakley:
"I expect a challenging season ahead, with significant changes being made within the squad. While we will remain competitive, players leaving from last year will open the door for some younger players and it will be a case of balancing youth and experience."
Ashton Hockey Club
Ashton will be keen to close the gap to the top 3 this season having run UCC and C of I close in recent seasons.  Coach Darren Wilkinson has added a few more established players to the panel with the return of former Irish U21 goalkeeper Hannah Humphreys a major boost.  On the other side Ashton have seen the exit of a number of their young starlets to UCC meaning the squad may be a little thinner than last year.  The club will again be targeting a strong run in the Irish Hockey Trophy after an excellent run last season.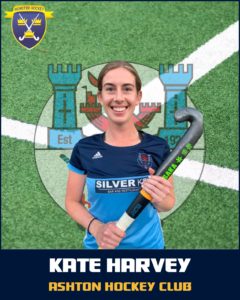 Head Coach: Darren Wilkinson
Manager: Aoife Murphy
Assistant Coach: Reece Hawtrey
Players In: Breana O'Gorman (UCC), Hannah Humphreys (year out), Rachel Atkinson (UCC)
Players Out: Alex Kenny (UCC), Ali Purcell (moving abroad), Elizabeth Tuohy (UCC), Isabel Janssen Cahill (UCC), Jill Roberts (UCC), Laura Lynch (Pembroke Wanderers)
Captain: Kate Harvey
Vice Captains: Ailse Holland & Robyn Murphy
Ambitions this season: We are aiming to compete at the top end of the league table and to get as far as we can in Munster and Irish cup competitions.
Key Players: Emily O'Leary will be key to Ashton's attacking play this season and will be aiming to build on her impressive goalscoring record for the club. In midfield, Robyn Murphy will be looking to make an impact through her ball control, speed and work rate. Emma Nagle will be crucial at the back with her excellent distribution and defending.
Rising Stars: Munster U18 players Susie Nolan and Éabha Curran will both be aiming to make a big impact this season. During preseason, they clearly showed that they have stepped up their games from last year and they will definitely be exciting players to watch over the course of the season.
Darren Wilkinson:
"Last season was extremely positive for the team and we're hoping to build on this going into the 2022/2023 season. Despite losing several players, the squad is still in a really strong position with a good blend of youth and experience. I'm looking forward to seeing what we can achieve this year."
Bandon Hockey Club
Pat Healy takes charge of Bandon this year after a number of successful seasons with Blackrock.  This Bandon side is probably one of the most settled in the league and this could work to their advantage early in the season as other squads try to settle.  Ingrid Burns and Olivia Roycroft will again lead the line with a number of younger players emerging towards the end of last season in particular.  Bandon will be quietly confident of causing a few upsets this year on the way to competing in a number of the cup competitions also.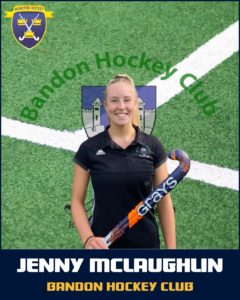 Players in:
Players out: Rachel Desmond (New Zealand)
Captain: Ingrid Burns
Vice Captain: Olivia Roycroft
Ambitions this season: 
We're looking forward to the new season ahead and are delighted to welcome our new coach 
Pat
Healy
.We have a few new players who will add exciting and new types of play to the game, which will be of huge benefit for our team. We hope to dust off the cobwebs and get back to our fighting ways and are a team to contend with at the top.
Key Player(s):  Rachel Barry (GK) Solid and proactive keeper, has great vision of  the game, a talent to be watched this season, Olivia Roycroft- Her silky skills and pinpoint accuracy in her shot makes her one of our key players to watch.
Rising Stars: Maia McCourt – She's a player beyond her years, her eye for the game and quick decision making, will defiantly cause concern for any opposition she will come up against.
Pat Healy:
"We have a settled squad to work with in Bandon this year with a good mix of youth and experience. The aim for the season is to focus on improving week to week, to give everything in training and games, to be as competitive as possible, to develop as a squad and enjoy the season ahead."
Waterford Hockey Club
New coach Allan Dale will lead Waterford this year after an impressive season last year.  Waterford caused a number of upsets and will be looking to do this again.  They will again be looking to the likes of Katie Leslie to provide the firepower up front and Elaine Breen to be the engine in the middle of the park.  A run in the domestic cups might be their best hope of silverware this season as they look to continue their progress and avoid being involved at the wrong end of the table.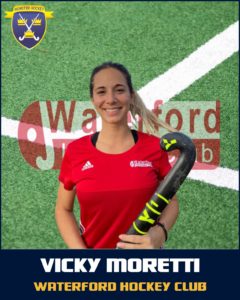 Head Coach:  Allan Dale
Manager and Assistant Coach: Billy Leslie
Captain: Vicky Moretti
Vice Captain: Katie Earl
Players in:  Ruth Breen (Travel), Kate McErlan (Pembroke)
Players out: Anna May Whelan (Kilkenny)
Incoming coach Australian Allan Dale has been encouraged by the attitude and performance of his players during pre season. Dale has a young group of players to work with this year. Captained by Argentinian Vicky Moretti the squad has experience in Elaine Breen, Ruth Breen, Barbara Johnson and Sue Ryan. The playing group also includes current and former JAG players Zara Notley, Ruby Madden, Katie Earl and goalie Sarah O'Donovan. Should Dale, a very accomplished player in his own right be able to put his stamp on this group and bring some of his own playing nous then Waterford should prove to be difficult opponents for all teams this season.
Key Players: Vicky Moretti, Elaine Breen, Sarah O'Donovan, Katie Earl
Rising Stars: Zara Notley, Alice Mulligan, Ruby Madden, Emma Beadle
Belvedere Hockey Club
Belvedere narrowly avoided the drop last year in a playoff and will be looking to avoid a similar situation this year.  The Ballincollig club have installed the very experienced taskmaster Brian 'Ozzy' Attridge as head coach and he will no doubt have this side well structured and disciplined.  He also won't be afraid to introduce some of the youth players to 1st team hockey having worked with many of them over the years.  The return of Sarah Rickey also adds a bit more experience and knowhow to a young side.
Head Coach: Brian Attridge
Players in: Sarah Rickey (returning from a year out)
Players out: Cliona Barrett (Blackrock HC)
Ambitions this season: To compete consistently and competitively in the top league in Munster. We are  looking to build on the experience and work done with the young players last year.
Key Player(s):  The reintroduction of Sarah Rickey to the team adds experience and depth. Siobhan O'Regan is also key to adding pace and stability around the centre of the pitch.
Rising Stars: Lara O Callaghan – Munster U18 panellist who adds another dimension and versatility to the team. Many young players rising through the underage ranks include Alice Whelton and Isobel Dooley
Brian Attridge:
Aiming to improve on last years performances while integrating a number of our up and coming youths to the panel"
Blackrock Hockey Club
The newly promoted Blackrock have had a busy Summer with the addition of 7 new faces to the panel.  Eddie Kirwin also joins the charges as head coach and will doubt be looking to implement his ideas as soon as possible on this experienced group.  As an established group they will no doubt look to impose themselves on some of the less experienced sides they will come up against this season.  A mid-table finish is the ambition but don't be a bit surprised if Blackrock end up closer to the top than the bottom.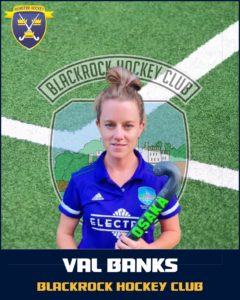 Head Coach: Eddie Kirwan
Players in: Rebecca Trevor, Cliona Barrett, Jennifer Murphy Laura Breen; Jess Higginbotham, Maeve O' Connor, Marina O' Dwyer
Players out: None
Ambitions this season: To finish in the top half of the league and to win a cup.
Key Players: The squad
Rising stars: Meadhbh Lynch(Goalkeeper)
Eddie Kirwin:
"With a strong blend of experience and youth this Blackrock team are looking to consolidate their position as a consistent division 1 side. All cup competitions will be targeted with the ambition to win one of them. There will also be a huge emphasis on the social aspect of the club ensuring that all the hard work can be rewarded.  It is hoped that their "auld" coach will stay injury free for the season 🙂
https://munsterhockey.ie/wp-content/uploads/2022/09/Slide04-1.jpg
1581
1265
Sportlomo
https://munsterhockey.ie/wp-content/uploads/2020/02/logo.png
Sportlomo
2022-09-14 21:28:01
2022-09-14 22:19:15
Season Preview – Women