Cork Church of Ireland
C of I will again be favourites to retain their Munster Division 1 title but may face tougher opposition than the last few season with Quins and Bandon strengthening.  The loss of Irish underage international Mark Collins is a blow and together with Jason Lynch and Andrew Daunt C of I will have to rebuild their midfield entirely.  The addition of Evin McClure from UCC should go some way to helping fill that void along with the addition of young talent in Tiarnan Gaffney, Rob Olden and Gearoid Cashman.  A lot will ride on how the quickly the squad settles early in the season and this will no doubt be helped by the presence of experience in the form of the likes of Alec Moffett, Simon Wolfe and Phil Byrne.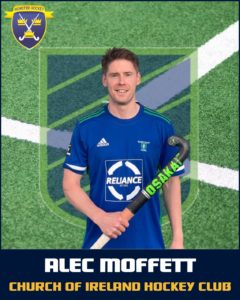 Head coach: Jonny Bruton
Manager: Phil Lecane
Players in: Tiarnan Gaffney (Catholic Institute), Rob Olden (Midleton), Gearoid Cashman (Midleton), Evin McClure (UCC)
Players out: Jason Lynch (Dublin), Phil Sweetnam (break from hockey), Andrew Daunt (break from hockey), Mark Collins (Dublin),  Rory Treacy (Dublin).
Captain: to be announced
Vice Captain: to be announced
Ambitions this season: Looking to compete for trophies both Provincially and Nationally.
Key Player(s):
Eoin Finnegan: Eoin brings an unselfishness  to the attack that is key for any team. Always putting in the hard yards to create space and support his teammates, while getting in great positions to score.
Simon Wolfe: A throwback player if there ever was one. Plays direct and at pace, while bringing others along with him.
Rising Stars:
Gearoid Cashman: A new signing with a great attitude and desire to learn. Gearoid along with the other new additions to the squad will look to hit the ground running, as they get up to speed with a new system.
As with all rising stars and new players in the club, embracing the high training standards and the demands that go into a winning culture will be key in how far they can go in the upcoming season and beyond.
Jonny Bruton:
"Starting later than normal this year to give the international players extra time to recover means shorter time to gel together as a team but we're confident we can do this with the experience and quality we have.

Embedding the new younger players has been important and they have all shown a great attitude so far. The focus will be on our playing philosophy and how that transpires on the pitch. Looking forward to the challenges ahead."
Bandon Hockey Club
Bandon pushed C of I all the way last season and it looks like they could do it again this year.  The loss of Fionn O'Leary to bad injury in preseason is a blow along with the loss of Irish underage international Ian Perrott to YMCA.  They have however recruited well bringing in Brian Stockil, Tristen Walsh and the return of Iarlaith O'Neill from abroad.  This additional depth should help them compete at the top end of the table and maybe push one step further in EY2.  In Denis Pritchard and Will Bartley they have a brilliant team off the pitch too making them a real title threat this season.
Head coach: Denis Pritchard
Manager: Will Bartley
Assistant Coach: Fionn O'Leary
Video: Ashley Smyth
Players in: Brian Stockil (Ashton), Tristen Walsh (UCC), Iarlaith O'Neill (Xenios)
Players out:  Ian Perrott (YMCA)
Captain: Colin Kingston
Vice Captain: Dave Jennings
Ambitions this season: 
This year in Munster will be one of the most competitive we've seen with several teams fighting for silverware. With that being said though we have a talented squad with good depth and feel we should be challenging for all domestic titles. We had an unfortunate run-out as well in EYHL2 last year and the general consensus is that we would like to push on this year and at least be in contention for promotion by the end of the season.
Key Player(s):
Dave Smith:
Consistently improving with age, Dave will certainly have a key role this year. Fresh off a summer of hockey with the Irish masters he undoubtedly has the ability and fitness to be a major thorn for opponents regardless of what position he is needed to play.
Ethan Hamilton:
With losing Ian Perrot it leaves a gap in midfield that Ethan is more than capable of filling. He has been growing in confidence each year and will look to really make a mark for the coming season with his stick work and fitness really looking good already.
Ali Smith:
Over the past two seasons Ali has opted to play more of a playmaker role in the team. This looks to have changed this year as he seeks to replace the goals of the injured Fionn O'Leary. Ali has started pre season strongly and will be more clinical than ever come the start of the season.
Rising Stars:
Calum McCourt:
Calum has come on in leaps and bounds in the past 12 months and has all the tools necessary to be an excellent player. His technical ability was always very good and he has come in to the group this year looking stronger and more confident than ever. We imagine Calum will feature prominently this year.
Denis Pritchard:
"This new season , teams have lost and gained key players so to predict the season ahead is impossible. The teams that adapt appropriately and quickly should maintain or surpass their performance of last year. Our pre season is going well, confidence is good, fitness levels are adequate and training is progressing at a good level. Our aim is to improve on last season within the province and to be much more competitive at the concluding stages of EY2."
Cork Harlequins
The return of Julian Dale has no doubt sent a shiver down the spines of many a goalkeeper in Munster.  He will now link up with his 2 brothers in what could be a frontline of Dales.  Ronnie Willis steps in as coach this year and it ably assisted by Cathy Minehane.  The addition of Sean Curtain also means, like Bandon, Harlequins now have a bigger panel to work with for their campaign.  At the back they remain a solid unit with the ever present John Hobbs partnered by the Munster Player of the Year last season Jack O'Meara.  Definite title contenders and maybe more this season.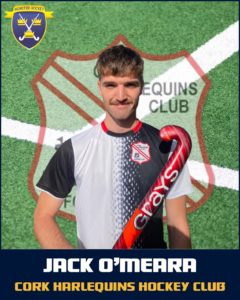 Head coach: Aaron (Ronnie) Willis
Manager: Cathy Minehane
Assistant Coach: Cathy Minehane
Players in: Julian Dale (Pembroke), Sean Curtin (Midleton)
Players out: None
Captain: Jack O'Meara
Vice Captain: John Hobbs
Ambitions this season: Win the Munster League and achieve at least the play-offs for Promotion to IHL.
Key Player(s):
Julian Dale – Having moved back to his home club, Julian's goal scoring prowess is first class.  This I'm sure will be a massive benefit to the team achieving its targets for the season, as well as causing no end of difficulties for our opposition.
Jack O'Meara – team Captain and the talisman for the current group of players.  Jacks distribution throughout the pitch is spectacular.
John Hobbs –  The evergreen defender has been a stalwart in the team for over 20 years.  John continues to be the defensive rock for the team and is very difficult to beat.
Rising Stars:
Sam Dale – Sam is getting stronger and stronger with each season, Sam will play a much bigger part in this seasons campaign.  I'm sure his skills will be causing our opposition significant problems week in week out.  One to watch.
Sean Curtin – Quins welcome Sean into the squad this season, and with every session his ability and capability grows.  A real asset to the squad and certainly one to watch for the future.
Aaron (Ronnie) Willis:
Having taken on the coaching role for Quins M1 this season, we have engaged in a new way of doing things, which has the whole squad enthused.  We will continue to develop both individually and as a group and I am sure with the ongoing commitment of all this will be a successful period for the squad.
Catholic Institute Men
For Institute it looks like season of consolidation and rebuild as they saw some of their best young talent move on over the Summer.  This however creates good opportunity for the younger members of the squad pushing through the ranks.  Last season they played an attractive passing game and caused a few upsets along the way.  A top 4 place will be the goal this season and maybe a run in the cups.
Head coach: John Geary
Manager:
Assistant Coach:
Other:
Players in:
Players out: Bryan Smyth, Tiarnan Gaffney (C of I), Christopher Ryan (Avoca), Zac Moloney (C of I)
Captain: Simon Brickenden
Vice Captain: Ed Gleeson
Ambitions this season: Retain the Charity Cup & top 4 in Munster Division 1 League.
Key Player(s): Nick Lampp, Ed Gleeson, Cathal Duggan
Rising Stars: Luka Novakovic, William O'Leary, Jack Stockil
John Geary:
"We have lost some players from last year's squad as they've moved away for college, so we need to do some rebuilding of the squad. We have a tough start to the league campaign, but hopefully a good pre-season will stand to us. Looking forward to seeing some of our young players like Jack Stockil and Luka Novakovic over the course of the season. A realistic target for us is to finish top 4 after seeing some of the recruitment of the other teams in the division."
Ashton Hockey Club
Ashton has added a number of players to a squad that was a little light on numbers last season.  The additions of Henry Brophy and Jack Marlborough bring youth to the midfield areas.  Stephen Jermyn continues his return from injury and will play a role later in the year while Adam O'Callaghan has had an immediate impact in the backline.  Graham Catchpole moves from UCC women and will be keen to organise the group quickly with C of I first up in the league.  A push for 4th and a cup run would show good progress this season.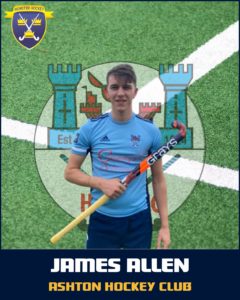 Head coach: Graham Catchpole
Manager: Malcolm Coombes
Players in: Henry Brophy (Cork Harlequins), Rodrigo Casal (Atlantico de Vigo), Stephen Jermyn (U.C.C.), Jack Marlborough (U.C.C.), Colin Moriarty (U.C.C.), Adam O'Callaghan (Cork C.of.I)
Players out: Brian Stockil (Bandon)
Captain: Stuart O'Grady
Vice Captain: TBC
Ambitions this season:  The club is aiming for a top half finish in Munster Division 1 and to cause an upset or two on the way to achieving this.  With a home draw in the first round of the Irish Hockey Trophy we will be hoping to progress against a strong Belfast Harlequins side.
Key Player(s): The club has managed to attract some strong talent to the squad over the Summer period.  The return of the versatile Jack Marlborough to the club gives options in defence and midfield.  Adam O'Callaghan's arrival will give a real anchor to the heart of the defence with his distribution and reading of the game about to play a key role.  Henry Brophy has also impressed after joining from Quins with his seemingly tireless running in midfield and up front.  A bigger squad will hopefully lead to more consistency over the course of the season.
Rising Stars: Rory Conway continues his development with a strong preseason doing the right things on and off the pitch.  It was also great to see a few more players trickle in from the youth system in Paul Scanlan and Eoghan O'Brien.  James Allen continues to improve also and will no doubt be looking to push for double figures on the scoring charts this season.
Graham Catchpole:
"I'm looking forward to the new season and seeing if this group can compete in what looks like a close run league.  I feel there are a few upsets available this year whereas previously this may not have been the case.  The group have been training well in preseason with a good level of commitment.  We are under no illusions how hard we are going to have to work to catch the top 3 but we will make every effort to close the gap and remain competitive throughout the campaign."
UCC MHC
UCC have had a turbulent Summer with a number of key players either finishing up or leaving the club.  They have however managed to attract 3 talents from Midleton Hockey Club to stabilise things.  A draw with Trinity in preseason suggests College won't be far off the pace again this season.  A strong recruitment drive could add to a squad that was a little light on numbers last term.
Head coach: TBC
Players in: Hugh Jeffery (Midleton) , Art Moore (Midleton), Paul Curtin (Midleton)
Players Out: Evin McClure(C of I), Conor Beck (finished college), Harry Deane (finished college)
Captain: Sam Lilburn
Vice Captain: John Deane
Ambitions this season: Win the league.
Key Players:
Sam Lilburn – back after a year out due to Injury, the gifted centre back has leaned up and is looking forward to eating up any possible attacking threats thrown at him.
John Costello – UCC's player of the season last year and the man with the best backstick in Munster is looking to continue his run of form from last season and help UCC improve their goalscoring.
Art Moore and Liam Hennigan – This newly found forward partnership is looking to embarrass the aging defences of the Munster division. The mouth-watering dribbling and agility of these two will be keeping every opposing defender unsettled.
John Deane and James Feely – John and James are big. Being the two most physically dominant men in Munster hockey comes with a reputation that has to be lived up to. And it will.
Waterford Hockey Club
Waterford make the step up to the top division again this year and have again managed to recruit well.  The return of Ben McInerney was a major boost towards the end of last season and they will again be looking to him as a driving force this season.  David Quinn steps into the hot-seat as coach and he has started to bring through some of the young talent coming through from Newtown school.
Head coach: David Quinn
Players in: James Kyriakides (Three Rock Rovers), Peio Garate (Real Club Jolaseta)
Players out: Brad Rouhana (Worcester HC), Sam Johnson (Pembroke Wanders), Gatien Lerinckx (Royal Oree HC), Jan Trejbal (HC 1972 Rakovník), Sergio Montalvo (Junior FC)
Captain: Ben McInerney
Vice Captain: Dave Ghan & Jono McConnell
Ambitions this season:
Like the last number of years we have had a few key departures from the club as our young members leave for University. We will strive to put in good performances week in week out and look to secure a top half finish in the Munster League and to go as far as we can in the cups.
Key Player(s):
Ben McInerney, Dave Ghan and James Kyriakides will be key to Waterford's attacking and defensive play this season with their ability to break from deep but also control the middle of the pitch.
Malachy Shute, Peter Keappock, Thomas Musgrave, Peio Garate and Ivan Kennedy are our defensive unit. We are looking forward to see how they grow and develop over the season.
Neil Quinn and Peter Yaciuk-O'Connor will bring their experience and organisational skill into play in a young forward line. Jono McConnell will bring his attacking pace and ability to beat players one on one and has an exceptional eye for goal. The return of Harry Belton is also a welcome addition to the midfield/ forward line – he will bring work rate and experience to the squad.
Rising Stars:
Harry O'Shea, Toby Edmondson, Peio Garate, William McInerney and Harry O'Brien (all Munster U18 players)will add depth to the Waterford camp this season.
David Quinn:
"I am really looking forward to this season with this very promising squad in Munster Div 1. I want this team to build on Waterford's talent and success to date and see the team finish top 3 in Div 1 and have a good cup run in the Charity Cup and IHT. On a personal note I feel very lucky to be coaching the Mens team this year. I feel very passionate about what this team can be and the success that we can create together. I'm really looking forward to pushing our boundaries and motivating the team to show up with their best every week."
https://munsterhockey.ie/wp-content/uploads/2022/09/Slide05-1.jpg
1581
1265
Sportlomo
https://munsterhockey.ie/wp-content/uploads/2020/02/logo.png
Sportlomo
2022-09-15 23:40:55
2022-09-15 23:50:21
Season Preview – Men