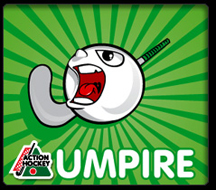 MHUA Rules Briefings for Club Umpires 2nd Briefing
The second MHUA Rules Briefing for Club Umpires will take place on Monday 3rd November at 7.30 p in the Hibernian Hotel in Mallow.
We look forward to seeing as many of you there as possible.
Regards
Julie Beamish
On behalf of the MHUA
The MHUA are commencing an umpire development programme starting with a comprehensive series of briefings on the rules, rule interpretation, game management and general tools of umpiring.
These briefings will be held on 4, 2 hour evening sessions over a 4 week period. The objective is to provide those within their clubs interested in umpiring a detailed knowledge of the rules and an understanding of the role of the umpire in the game of hockey.
At the end of these sessions the MHUA will embark on a mentor programme with pitch side training for any attendees who wish to further develop their umpiring skills. This will not be mandatory for those who attend the sessions but those who do attend will be awarded an umpire grading in line with the National Grading structure upon successful completion of the programme.
As many of you will be aware if a club enters a team in an Irish Competition they must supply a nominated umpire – the MHUA will assist in providing clubs with the knowledge base to hopefully allow a club have a pool of umpires capable and confident to step onto the pitch.
The first briefing is taking place in Garryduff on Monday next, 20th October at 7.15 pm. Until such time as we see where attendees are located we will not confirm the location of the second session but it will be on Monday 27th October. It is intended that attendees will not have to travel for all sessions and that we can get a reasonable spread across the 4 weeks.
I look forward to seeing as many of you as possible next week in Garryduff. Please note there is no restriction on how many can attend from each club. The more that attend the more everyone will get out of the sessions. I would encourage anyone who wishes to attend to make every effort to attend all 4 sessions to get the full benefit as different topics and aspects will be covered each evening.
Participants must be over 18 years of age
https://munsterhockey.ie/wp-content/uploads/2020/04/MHUA-Rules-Briefings.jpeg
190
216
Sportlomo
https://munsterhockey.ie/wp-content/uploads/2020/02/logo.png
Sportlomo
2014-10-31 17:14:19
2020-04-22 17:15:36
MHUA Rules Briefings for Club Umpires 2nd Briefing